Are you looking to use drones in your business?
Not sure where to start?
I can help.
For all the simplicity of drones and the ease with which they are rapidly transforming business and society, there is more to their use and introduction into your company than initially appears.
As with any high-tech equipment there are differing specifications of hardware and software to consider and importantly ensure compliance with legal frameworks and safe operational requirements.
Terreco Aviation provides expert guidance helping agribusinesses and civil engineering consultancies gain clarity on the intricacies of commercial drone applications so they can use third party service providers with confidence; or build and operate their own drone capability efficiently, safely and legally.
Louise Jupp
Commercial Drone Pilot & Instructor| Author | Speaker  Environmental Scientist |Drone Applications for Smart Farming
Louise originates from the UK and moved to South Africa in 2000. She is a licensed commercial drone pilot, environmental specialist, and #1 Amazon bestselling author on the use of drones in agriculture. She has over 28 years' experience in environmental consulting on major engineering projects in the UK, Europe and across Africa.
She recognises the value of drones in society, whether in terms of providing humanitarian support, improving food security, enhancing disaster management options or promoting effective conservation.
Louise is a member of the AW-Drones Advisory Board for developing new European Safety Standards for civilian drones for the region.
Drone Professional 1
My new book has been released and it achieved #1 best seller in two categories on Amazon.com in the US and reached #2 on Amazon.co.uk within 48 hours of its release. This book is a collaboration with 16 experts from the global professional drone community and features case studies, guidance and insights on a broad range of professional applications for drones.
Drone Professional 2
An indispensable reference for today's drone industry
#1 Amazon best seller in the USA, Spain and Germany (Air and Space Law) | #3 Amazon best seller in the UK (Commercial Aviation)
Drone Professional 2' features 21 drone industry professionals from around the world. They share their experience, insights, best practice guidance and current best thinking on a broad range of topics in unmanned aviation.
'Drone Professional 2' is available in paperback and Kindle format across Amazon's global retail websites.
Precision Farming from Above
How commercial UAV/drone surveys are helping farmers improve crop management, increase crop yields and create more profitable farms.
Louise's book is available in paperback and Kindle format across Amazon's global retail websites.
"Louise congrats you have written a really good technical book…in plain language. I like how it reads like a sleeves rolled up chat over a cup of tea on the bonnet of a Jeep out in the field without dumbing down the science, agribusiness or civil aviation laws. Well done."
– Andrew
"Thanks Louise for a very well-written piece of work. This is probably the best book I've ever read on drones…"
– Victor
"This book was helpful to me and I'm not even a farmer. Louise covers everything that I think would be useful for a farmer just getting her/his feet wet in e-agriculture and even for a veteran smart-farmer….And though Louise is in South Africa, it seems this book carries knowledge that can be useful across the globe."
– Stephen
Louise enjoys opportunities to speak formally at industry conferences or to commercial sectors that benefit from the application of drones – especially in connection with precision farming. Recent formal speaking events include:
6th Annual International Conference Remotely Piloted Aircraft Systems (RPAS) European Civil RPAS Operations Forum, Paris
Drones and Digital Aviation Conference 2019, Johannesburg
Sustainable Land Management and Biodiversity Conservation: Drone Users Conference 2019, Cape Town
Louise also enjoys speaking at more informal gatherings to raise awareness about the value of drones, bust myths, explain the drone regulations in South Africa and promote responsible flying. She has made presentations to Rotarians, the local aviation community and educational institutions.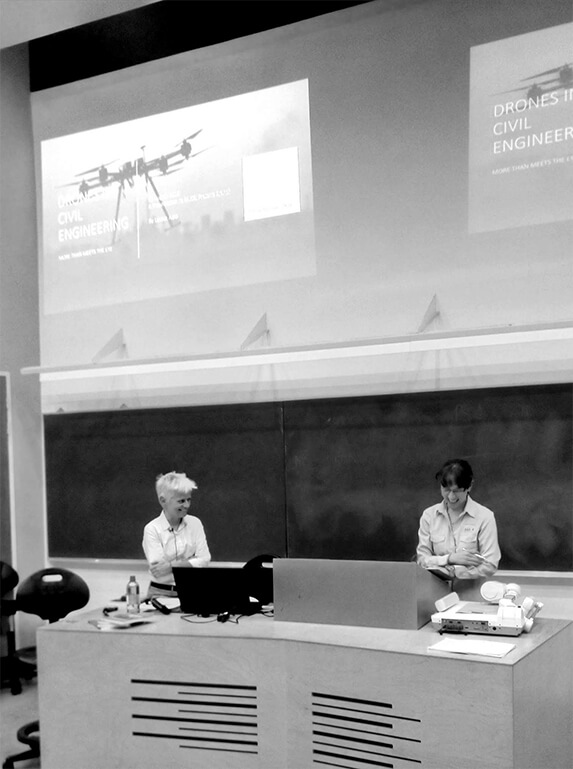 Contact me to schedule a chat or leave me a message below
+27 (0)83 304 2232
louise@terrecoaviation.com
Resources
Company Profile
Speakers Profile